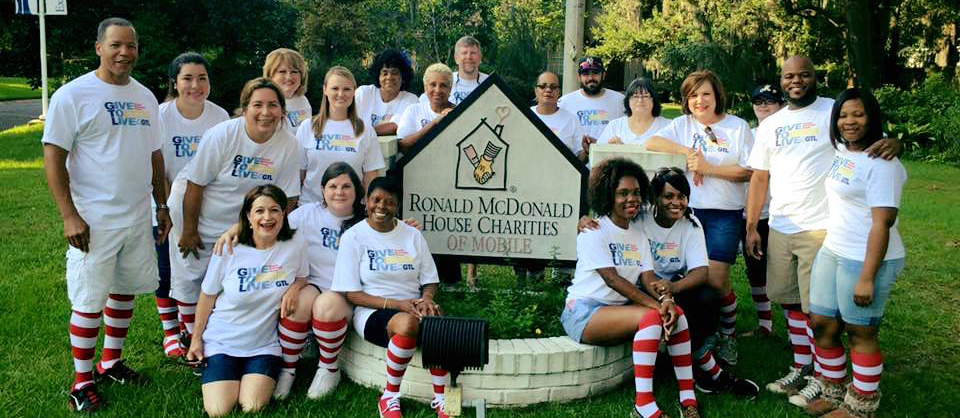 Our Volunteers truly help to make Ronald McDonald House and Family Rooms a "home away from home" for every guest, family member and visitor that has ever had any experience with our House.
Their dependability and willingness to contribute their time and care helps to create a safe and welcoming environment where families can stay together when they need it the most. Our volunteers know the House inside and out and approach their volunteerism with full commitment and have the knowledge of what the House really means to everyone involved.
We are actively seeking volunteers to join our Ronald McDonald Family Room Volunteer Program. To learn more about this opportunity, please contact Janice Hatchett by e-mailing janice@rmhcmobile.org.
Fill out the Volunteer Form to be contacted about our volunteer opportunities!
In-House Volunteer
Assists staff with light office work
Clean and organize kitchen and common areas
Organize pop tab and recycling area
Assists with Family Meals
Greet and welcome visitors and families
Help with grounds keeping and other gardening activities
In-House volunteers are scheduled with the House Manager. Shifts are available seven days a week from 8:00 a.m. to 8:00 p.m. depending on availability. Also, there is an opportunity to volunteer as our receptionist from 4-7 PM every evening.
Ronald McDonald Family Rooms are an extension of Ronald McDonald House Charities of Mobile; a bit of home within the walls of USA Children's and Women's Hospital. Volunteer at the Family Rooms located on the third and fourth floors of the new hospital tower and will serve as a brief respite for families to use while remaining merely steps away from their child's bedside. To become a Family Room volunteer, contact Janice Hatchett- Family Room Coordinator at janice@rmhcmobile.org.
We ask that you consider your business or group join us in our effort to feed our families by helping provide a meal. Come with a few friends and cook for approximately 45-50 people. A hot meal prepared at the House is greatly appreciated by our guests. Nothing makes the House more like home than the aroma of food cooking on the stove or a batch of chocolate chip cookies fresh out of the oven. We can accommodate up to 12 people cooking in the kitchen for this volunteer opportunity. Please know that we are very flexible and are open for suggestions to meet your schedule and budget. The meal may be catered by a restaurant or caterer or you can come and prepare it in our commercial kitchen. It is fun and the guests really appreciate having a meal to come home to. Family Meals can be scheduled for breakfast, lunch or dinner seven days a week.  To schedule, please look at our Take Them A Meal Calendar or call Tamara Perry- Family Services Coordinator at Ronald McDonald House by calling 251-694-6873.
Participate in our pop tab program by collecting pull tabs from aluminum cans and donating to Ronald McDonald House. The program raises approximately $3,000 – $5,000 each year and the proceeds go toward the operating costs of Ronald McDonald House of Mobile.
Help our families by donating items from our wish list. Pick up a few items from our list on your next grocery run and simply drop them off at the house! The list varies from week to week depending on the needs of the House; see what's on this week's list by visiting our social media pages. Weekly or monthly donations are greatly appreciated.
Ronald McDonald House Ambassadors are high school juniors and seniors chosen to represent the House at various special events and fundraisers. Red Shoe KREWE holds the annual Easter celebration, "The Bunny Hop," and meets monthly. For more information please contact Liz Calci.
Volunteer Form
To request more information about volunteering, please fill out the form below.