The Smith Family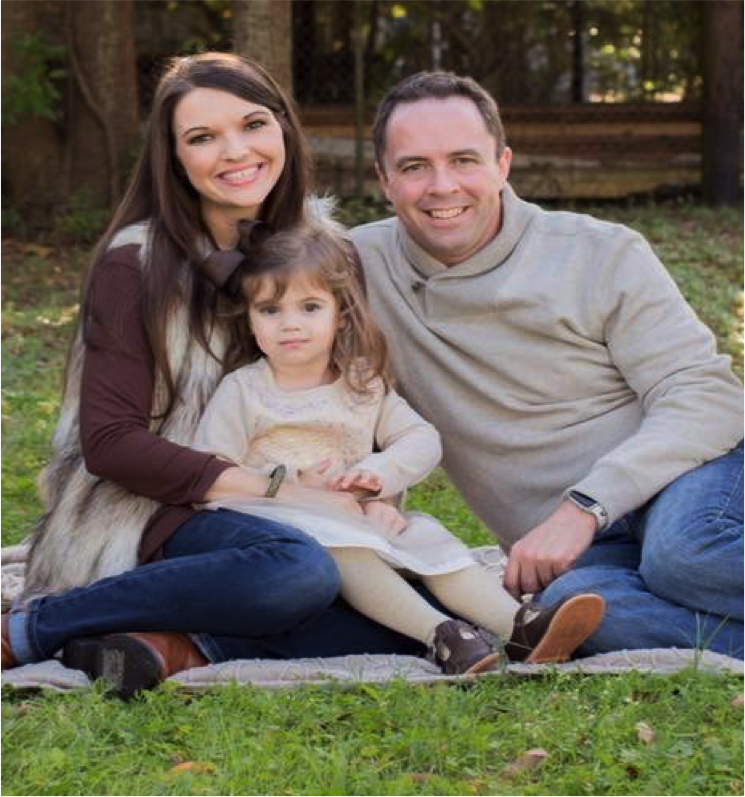 Due to medical issues we were told that we would likely never be able to conceive a child. God clearly had different plans for our future. We had been married four years when we found out that we were pregnant. We were overwhelmed and grateful for the blessing we knew we had been given.
Our journey became difficult at about 28 weeks into the pregnancy. My blood pressure was high, and my doctor put me on bed rest. Things continued to decline and my body was failing. I was diagnosed with pre-eclampsia and a plan was made with my doctor to try everything humanly possible to get us to 34 weeks to deliver a healthy baby.
At 32 weeks, my body was no longer providing a healthy place for our baby to grow. I was rushed by ambulance to USA Children's & Women's Hospital. Time seemed to be flying by and standing still at the same time. Doctors feared stroke for me, so Ella Grace Blair Smith was taken by emergency C-section on July 23, 2013 at 8:59AM.
I vividly remember waiting to hear her cry. We were so worried that it was too soon, and what all of this would mean for her.
Ella Grace was born in respiratory distress and the NICU team seamlessly began working to resuscitate her. The minutes seemed like hours, and we finally heard the sweetest, softest little tiny cry that we had ever heard before. Our little miracle was breathing.
One thing I was very adamant about from the beginning was that I would not be leaving the hospital and going back home to Fairhope without our baby. I was fully prepared to sleep in a hallway and not shower for months if that's what it meant. While I spent the remainder of the day in recovery, Jason was working with NICU nurses to ensure that I would not ever have to leave our baby.
Jason gave me the great news! A very magical place existed, that before this day, I never even knew was there. This amazing place that is right beside the hospital, that feeds you, and loves on you, and listens to you cry, and gives you the softest bed you've ever felt to sleep on. This magical place is called The Ronald McDonald House Charities of Mobile.
Ella Grace was in the NICU for over a month. Thanks to Ronald McDonald House Charities of Mobile I was able to be in the NICU to feed her every 3 hours, I was able to be there at a moments notice to sign paperwork for a PICC line when her tiny veins couldn't hold the IV's she needed. I was able to be there to change her tiny diapers, to be there to celebrate the milestone of her feeding tube being removed, and every other milestone until the day she was allowed to come home with us!
Ronald McDonald House is truly a magical place. One of the moments in my life I will never forget is the evening I checked in to Ronald McDonald House after being discharged. That was a very emotional and painful day to say the least. I will never forget Mr. Curtis welcoming me with open arms. He knew my heart was hurting, and gave me one of the biggest hugs I have ever received. He knew that in THAT moment, no words would suffice, and offered me the very thing that I needed the most. A GIANT hug, and to know that I was welcome at Ronald McDonald House as long as I needed to stay there…
There are a lot of things in life that money can't buy and that is one of them. The volunteers and staff that greet you each time you enter the front door, always ready to celebrate even the smallest milestone, or offer encouragement for the news of a setback, the family meals cooked with so much love so you have one less thing to worry about. Every detail is taken care of.
In those days your precious baby is the most important thing in your world. They understand that, and welcome you into their house with open arms. Ella Grace has overcome so many things in her short life, and we are pleased to say that today she is a very happy and healthy almost three years old. She loves books, puzzles, playing at the park, arts and crafts, and animals of all kinds. She has a smile that will light up any room, and loves to make new friends.
We are so grateful that God chose us to be her parents, and we are grateful that Ronald McDonald House was part of our journey,.
So many families lives are turned upside down by having a baby born too soon, or child hospitalized. Ronald McDonald House Charities of Mobile provides so much for these families… A refuge from the storm.
Thank you RMH for being OUR refuge from the storm, and loving on us like you did. We are so proud to be part of your Ronald McDonald House family. -Rachel and Jason Smith, daughter Ella Grace
SaveSave
SaveSave
SaveSave
SaveSave